The Holiday season is over and everything seems so grey and the spring seems so far away, that I need an inspiring plan of action to fight the winter blues and survive until more light and sun start coming my way. I think we all do. My all-time recipe is to spend some hygge time with friends with lots of hot drinks and also plan some cultural events that will surround me with beauty and take to other times and realms. Summer days are flying so quickly, that I rarely want to waste them on indoor events, so I love packing my winter days with exhibitions, performances and dance shows. Here is my pick of art and culture in London that I would love to see this winter. Fashion, visual arts, theatre and dance and even some Nature creations to welcome spring. With a little child, I'm not sure I will be able to manage everything. Art exhibitions are easier than evening shows and performances. But I still try to pick one or two shows to unwind my mind during this grey season.
1. The Art of Fashion
1. Balenciaga. Shaping Fashion in Victoria and Albert Museum
From now to Sunday 18 February 2018
"Haute Couture is like an orchestra whose conductor is Balenciaga. We, other couturiers, are the musicians and we follow the direction he gives." These words by Christian Dior meet you at the entrance of the exhibition and set the mood for it straight away. Balenciaga was a huge international couture phenomenon from the 1930s. The House of Balenciaga in Paris was the most expensive and exclusive establishment in the city that had always been the fashion centre of the world. Some of the best designers of the 20th century such as Givenchy, Oscar de la Renta and others, worked with him and learned from him.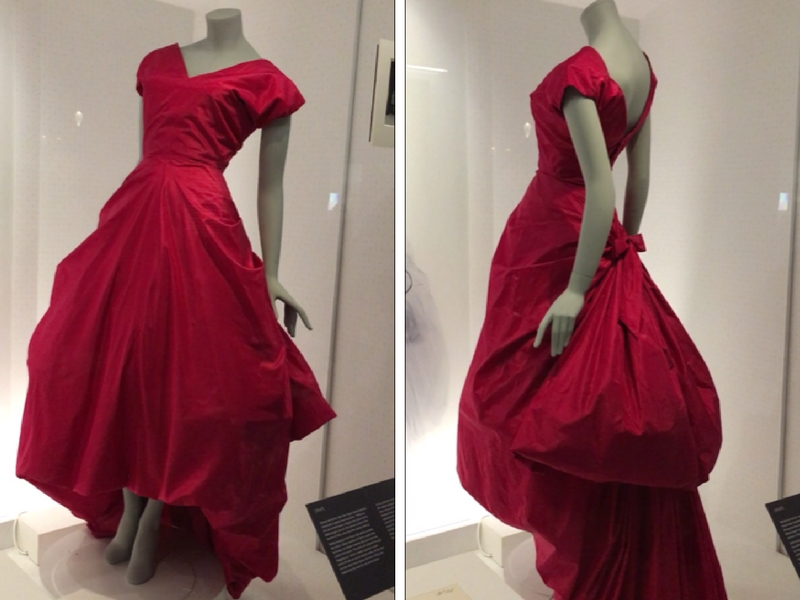 Entering the exhibition I found myself in the middle of colour and shape extravaganza. Some of these dresses are 50-60 years old but they still inspire couturiers today and would not look out of place today on one of the films awards red carpet. One thing that looked curious to me was that Balenciaga didn't first do the sketches of the designs and then choose the fabric that will go best with it, like the majority of the designers does. He chose the fabric and then let it dictate the form that it wants to take. I'm going to shut up now and share with you a quote that a friend sent me when I showed her the photos from the exhibition. It's from Remarque's "Life of Loan" and it tells much better than I can about the feelings that Balenciaga's designs leave you with:
Lilian chose four outfits. When she was trying them on, the shop-assistant was especially attentive to her.
"You chose right", she told. "These items feel like they were made for you. It rarely happens…."
Lilian looked in the mirror. In Paris, her face looked more tanned than in the mountains. New dresses swirled around her figure and stressed the singularity of her features. …
On the fourth day, the senior shop-assistant came to do the fitting. In a week, Balenciaga himself came to see her. They realised that this client will be able to wear the designs with chic. Lilian talked very little but she patiently stood in front of the mirror. The barely perceptible Spanish flavour of the designs that she chose gave a slightly tragic expression to her young face, though it wasn't too ostentatious. When she put on black or bright-red, like Mexican shawls, dresses or short jackets like the ones worn by matadors, or an immensely wide coat, that made her body look so lightweight that all of the attention moved to the face, it made her naturally melancholic appearance come out even more.

"Great choice," said the assistant. "These outfits will never go out of fashion. You'll be able to wear them for many years".
You get it. If you love gorgeous dresses, you can't miss this one.
2. Visual Arts
2.1 London Art Fair
Wednesday 17 January to Sunday 21 January 2018
I missed London Art Fair last year but I hope it's going to be one of the highlights of my next week. It's a great way to see what's going on in the British and international art landscape with exhibits from the leading galleries all over the world. The works presented include paintings using traditional media, sculptures and installations as well as some curious creations combining art and technology like the one created by Charles Harrop-Griffiths in the picture below.
2.2. The EY Exhibition: Impressionists in London. French Artists in Exile. Tate Britain
Now to Monday 7 May 2018
I can go to the exhibitions of French impressionists every day and not get tired of them. But this one is especially interesting as it has a story behind and it connects Britain and France. It presents the remarkable artists who fled to Britain to escape the Franco-Prussian war and shows how their time in exile in London influenced their works. There are some magnificent works by Monet, Tissot, Derain and others, showing how London was perceived by the artists. We are more used to seeing the cathedral of Rouen and other French landmarks created by them, but what about seeing the Westminster palace or the pretty Hampton Court landscapes created by Pissarro?
Below I share an evocative video created by Tate conveying the feeling from the exhibition:
3. Theatre
3.1. Woman Before a Glass – Jermyn Street Theatre
Wednesday 17 January to Saturday 3 February 2018
I feel that this is a very promising production to check out for lovers of art and theatre. This is a UK premiere, a play by Lanie Robertson bringing to life the story of Peggy Guggenheim, famous for her lovers as much as for her art collection. The play is directed by one of the New York's most acclaimed directors and the winner of Pulitzer Prize for Drama for two of his recent productions, Austin Pendleton.
Good news for me and other mums with little children who struggle to go out late in the evening, there is a matinee performance on Saturdays available.
3.2. Theatre in the Dark Experience. Battersea Arts Centre
Tuesday 6 February to Friday 9 February 2018
Another theatre experience that looks like an exciting option to explore.  This is how the organisers describe it:  "A surreal, immersive experience taking place in total darkness. Don a pair of headphones for an intimate journey through the scrawling architecture of dreams."
4. The Art of Dance
4.1.Tanztheater Wuppertal Pina Bausch – Viktor. Sadlers Wells
Thursday 8 February to Sunday 11 February 2018
There are masters that are able to show beauty in every movement and every breathe. Not the kind of sweet beauty exploited in Hollywood films with all the cute silhouettes of a couple kissing at the pinky-orange sunset. But a kind of penetrating beauty that leaves a lump in the throat and tears in the eyes. If we talk about ballet than the first choreographer that comes to mind here is Boris Eifmann.
There are also masters, whose creations go beyond – beyond the beauty and ugliness, humour and absurdity, erotism and pietism. The talent of these people is impossible to appreciate through the prism of mind. To understand them you need to switch off your mind and watch and listen with your heart. And this is what Pina Bausch is to me. Her characters are beyond the story and there is a story in each movement. Her works make you laugh through tears watching the light sense of absurdity in each scene and appreciating the infinite beauty of capacities of a human body. It's all elements and all senses mixed with music and rhythm.
I've been to two of the Tanztheater productions and really looking forward to this one, Viktor, inspired by the Eternal City, Rome. Pina's choreography is so far away in its spirit from anything Italian, that I'm really curious to see what they've come up with. If you are passionate about dance and are open to a novel and a bit crazy experience, don't miss this one. If you are not familiar with Pina Bausch's work, I encourage you to watch the film about her called Pina. It is a tribute from the director Wim Wenders and the Tanztheater dancers to Pina and her lifetime of devotion to the art of dance. Would love if you share your thoughts about the film if you've seen it already.
4.2. Flamenco Festival in Sadlers Wells
Wednesday 14 February to Sunday 25 February 2018
I have always been fascinated by Spanish music and rhythms. Gipsy Kings were one of my favourite music bands when I was a child and I could dance for hours to Bamboleo. I didn't get a chance to try flamenco as a dance style until I was an adult, and I can't say that it's quite my style when it comes to dancing, but I can definitely watch it for hours. I love how the dancers convey emotions, the stories of love and hate and passion with their body and facial expressions. It is deeply touching and sometimes even cathartic. Flamenco festival is definitely a great way of experiencing the warm sunshine of Spain in the middle of London winter.
5. The Art of Nature
5.1. Kew Gardens Orchids Festival
Saturday 10 February to Sunday 11 March 2018
Is there a better way to prepare for spring than having a stroll in a pavilion full of orchids, one of the most sophisticated and gorgeous creations of the greatest master itself, Nature. Kew Gardens Orchid festival is truly beautiful and I look forward to it every year. The flowers are presented in all possible colours and shapes, even in the form of dresses and hats. So it's a fashion show and a flower show,  2 in 1.
Hope you are able to pick something from this list to get your dose of art and beauty to survive until spring. Have you got any events planned that you'd like to share with all of us?