About a month ago I spoke at a Business Analyst conference in London. The conference was 3 days, and I was speaking the first morning and had the rest of the time to enjoy the talks and workshops held by colleagues and invited keynotes. Though the preparation for the conference took an enormous amount of time putting together the slides, thinking through the practical exercises and rehearsing, I knew that I had to think through the appearance part as well. I am a girl in the end, and looking good helps me feel confident and empowered. So I would like to share with you some of my thoughts on how to approach the difficult task of choosing what to wear to a professional or business conference.
Unfortunately, not all the conferences state the dress code, but even if they do, there is so much to think about the details of the outfit within the dress code, isn't there? Below are some of the questions that I asked myself. And as always, it's good to start with the goals.
What do you aim to achieve as a result of attending or speaking at the conference?
Are you there to prove your expertise and establish yourself as an influencer in your industry? Or maybe just to learn something new about the industry trends? Is your main goal to meet like-minded colleagues or get new partners for your business? Or maybe you're sent there by your company as a representative? Whatever your goal, your appearance shouldn't contradict the way you want people to see you.
Are you a speaker or a participant?
If you are a speaker, you might want to lean towards more professional style even if the conference has a casual dress-code. But professional doesn't mean boring or just black, grey and navy. You can always add some individuality to it with accessories. And your style options will hugely depend on your industry and what is the conference about. On the first day of the conference when I had to speak and run a workshop, I just wore a classic grey suit with a silk scarf. On the second day, I could be a bit more relaxed with my outfit and more creative with the colour options.
What is the established dress-code within your industry?
This is a tricky one. I'm an IT Business Analyst, for example, and the dress code for us varies hugely from organisation to organisation. On the conference, I met colleagues from banking, universities, tech companies and even working for the parliament. The dress codes go from strictly professional to very casual. The same is true if it's a conference for start-ups or general business conference. And it doesn't only depend on the industry, it varies from location to location. It will also depend on whether you work for yourself or you represent your employer at the conference. So even if the conference states smart-casual dress code, you might want to go more official if the dress code in your company is much stricter. If you are a creative professional, probably, none of these applies and you might just want to bring in as much individuality as possible.
What is the one statement that you would like to make through your look?
Would you like to be seen as a creative, professional, amiable, confident or maybe a tough and no-nonsense person? It can be anything as long as it is authentic. And if you are a speaker, it also needs to be inline with what you are talking about. You can choose to express it through your outfit, your accessories including jewellery or even through make-up and nails. For example, on the conference, I spoke about business agility and working with data. Wearing a grey suit I wanted to stress professionalism and accuracy required when working with data.  And adding one of the Aithne's Oneiric world scarfs, I stated the value of agility and creative approach required to succeed even in serious matters.
Below I have compiled some outfit suggestions for what to wear to a professional or business conference. First four outfits are smarter and suitable if you are a speaker or represent a company with a stricter dress code. The last 2 are more relaxed and can be worn if the nature of the conference is more casual. If you want more inspiration, please also check my other blog posts for summer and autumn professional outfit ideas. And don't forget that you can always choose the timeless classics – a dark skirt or pantsuit brightened with a small accessory to add a unique touch to it.
1. Professional Outfit Idea in Teal and Cream
When I have a chance to put in different combinations of green and purple in the outfit, I can't really resist. So this outfit in teal, cream and lavender featuring Hobbs skirt and Maxmara blouse is one of my favourites. The scarf and the Mulberry bag add a bright stylish touch to it. The Temptation scarf from Aithne new collection is one of the easiest to style as it has this beautiful mix of colours in it but they are not overwhelming. I wear it with red, purple, teal, blue, which are the dominant colours in my wardrobe, and it just seems that I can't go wrong with it. Click on the little product icons below for details of each product in the outfit.
2. Сlassic White and Blue Professional Outfit
You can't go wrong with blue and white, can you? I chose a brighter shade of blue rather than the classic navy for a professional outfit and made it a bit more relaxed than the usual all buttoned up looks with this beautiful Jigsaw Shirt.The Milky Way scarf is perfect with this outfit as well as the Marcello Riccio earrings. Click on the little product icons below for details of each product in the outfit.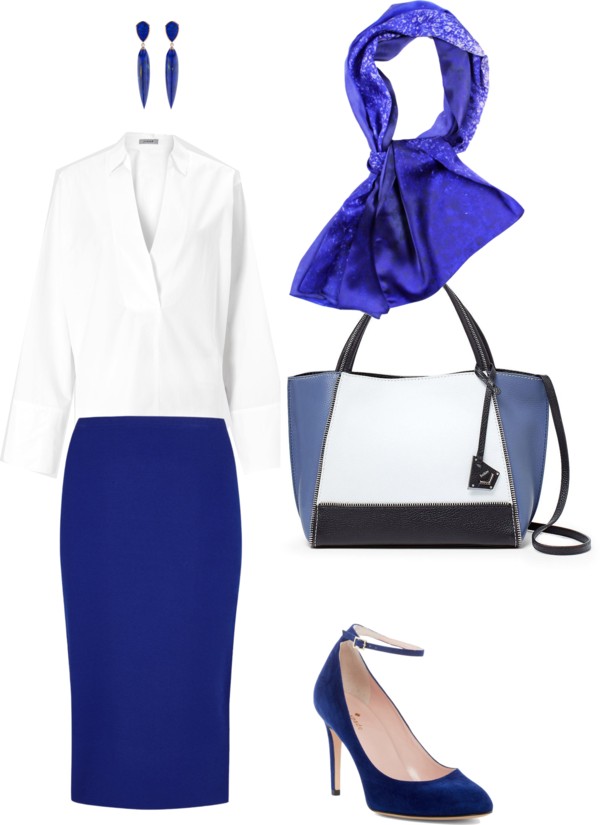 3. Elegant and Feminine Outfit Idea in Purple and Lilac
This outfit is great if there is an evening networking event after the conference. Diane Von Furstenberg dress is simple and elegant to wear as a speaker or an attendant who wants to make a statement. Add the beautiful gold-plated earrings and the Domination scarf, and you easily transform it into an eye-catching outfit for an evening event. Click on the little product icons below for details of each product in the outfit.
4. Elegant and Professional Outfit Idea in Teal and Black
This outfit is very similar to what I wore on the second day of the conference when I didn't have a speaking engagement. I had it more relaxed wearing a cream stretch silk t-shirt rather than a shirt underneath the jacket and higher heel shoes. So you can make it more official or dress down if you wish. And also you can wear just the shirt with the scarf and still have it stylish if some of the smaller rooms in the venue get hot. Click on the little product icons below for details of each product in the outfit.

5. Business Casual Outfit Idea in Blue and White
This is another blue and white outfit but in more casual style featuring Alice Olivia navy blue trousers and Alex Wang knitted top. I suggest wearing the small size of the Chaotic Movement Scarf tied neatly around your neck or medium size tied into a half-bow tie. Stanley Korshak Earrings are amazing with this outfit as well adding to the brightness of the scarf. Click on the little product icons below for details of each product in the outfit.
6. Business Casual Outfit Idea in White and Grey
I went for a stylish and smart combination of white, grey and the colder blue with this outfit. I love the Rebecca Minkoff silk jacket here. It has a polished look but also adds to the length of the silhouette. The Stardust Silk Scarf goes perfectly with the whole outfit and can be used to dress up the outfit for a chic evening event. You might want to change your shoes for that as well. Click on the little product icons below for details of each product in the outfit.
Hope you got some inspiration from these outfits and were able to make up your mind on what to wear for your conference. I wish you good luck and hope you'll be able to achieve whatever goal you have for the conference. If you love my suggestions and would like more style and art inspiration, or don't want to miss our new collection please sign-up to our mailing list below: